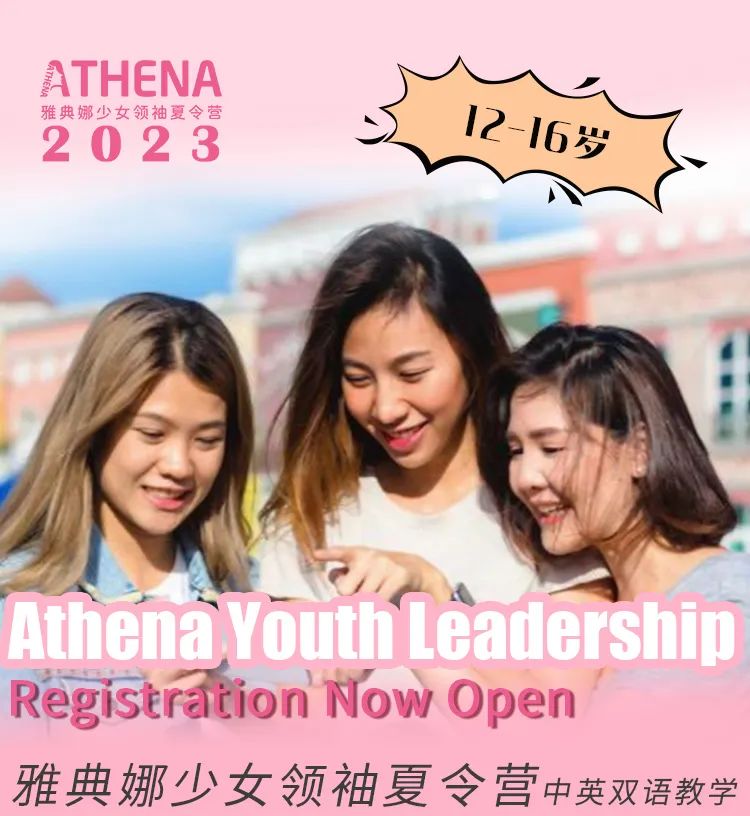 Letter to your daughter
给您女儿的一封信
Hello darling:
你好呀,亲爱的女孩:
Do you want to solve any problem in your life?
Do you want to be a leader in your favorite field?
Do you want to create long lasting friendships?
Do you want to build self-confidence and learn to love yourself?
你是否希望拥有解决生活中重重困难的能力呢?
你是否渴望成为你最喜欢的领域的领导者呢?
你是否想要建立一段真诚、永恒、相互扶持的珍贵友谊呢?
你是否想要变得更加自信并且学会淋漓尽致地爱自己呢?
At Athena Youth Leadership Camp, discover what makes you special and why you should never be afraid to dream big in just four days.
在雅典娜少女领袖夏令营这短短的四天中,你将会探索自己的独一无二,并且学会无畏地追逐自己的梦想;你发现自己可以成为任何梦想中的样子!
We know life can be hard, but you aren't meant to go through it alone. With an activity-based teaching format, you'll find yourself laughing and learning during games, discussions, and fun events, You will learn the tools to become a confident, kind, and creative leader surrounded by women who unconditionally support you.
生活中会有许多困难,但是你不会是孤身一人来度过那些艰难、迷茫、无助的时刻。在雅典娜少女夏令营的实践性课程中,你将会通过参加游戏、讨论会、和各式各样有趣的活动来在欢乐的时光中学习。你将学会很多工具来帮助你成为一个自信、友善、充满创造性的领导者;而你的周围是一群一直鼓励你并且无条件支持你的姐妹们。
Led by Harvard University's "Cutivate Leadership" keynote speaker, renowned American psychologist Doris WeiLi Duan-Young, supported by and her daughter, Serena Young, a writer and speaker on global platforms who inspired many, our camp incorporates teaching from both the East and West. When you leave, these tools will be a touchstone for the rest of your life.
我们的夏令营由哈佛大学"如何培养领导力"的特邀演说家、著名的北美心理学家伟丽老师全程亲临授课。她的女儿恬恬是一位在国际演讲舞台上激励了许多年轻女孩的作家和演讲者,她将成为你的知心姐姐,陪伴你成为梦想中的自己、自信发光的少女领袖。我们的夏令营将结合中西方教学方式,让你完成这段夏令营旅程后,学到的工具将成为你人生中大大小小事情的试金石,让你的一生受益无穷。
You can excel at anything you put your mind to, and our camp is where you discover your full potential.
无论什么事情,当你全身心付出,你一定能成为佼佼者。我们的少女领袖夏令营,就是帮助你发掘潜能、实现梦想的最佳途径。加入我们,你将拥有一生受用的技能和信心!
01
Camp Introduction  夏令营信息
Theme:Athena Youth Leadership Camp
主题:雅典娜少女领袖夏令营
Age:12-16
年龄:12-16岁
Address:Shanghai、Qingdao
1期地点:上海浦东红窑
2期地点:青岛中德营地
Duration:4 days and 3 nights
天数:4天3夜
1期:07.01-07.04
2期:07.15-07.18
Outcomes 课程收获
Self-exploration and confidence
自我探索和自信心
Self-expression and effective communication
自我表达和有效沟通
Leadership and interpersonal skills
领导力和人际能力
Innovative thinking and self-motivation
创新思维和内驱力
Execution and resilience
执行力和坚韧不拔
Social responsibility and contribution
社会责任感和贡献
03
Course features 课程特色
Our course combines the best educational practices and concepts from top institutions in North America, including developmental psychology, positive psychology, interpersonal relationships, and intercultural communication. Through the integrated application of these disciplines, the course aims to enhance girls' emotional intelligence, leadership, language expression, and overall of well-being.
该课程采用了来自北美国际顶尖教育机构的教育方式和理念,涉及多学科,包括发展心理学、幸福学,人际关系学,跨文化沟通学科等等。通过这些学科的综合应用,旨在提高女孩的情商,领导力,语言表达能力和幸福感。
01. 中英双语教学
Bilingual instruction enhances English listening, speaking, and communication skills while fostering cross-cultural understanding and preparing students for future international development.
中英双语教学提高英语听说表达能力,促进跨文化交流,助力国际化发展
02. 持续成长和创新学习方式
6-month on line group coaching after camping, and Innovative learning methods with comfortable seating in sister circles, instead of traditional desks and chairs.
营会没有传统的桌椅课堂,而是坐在舒适的姐妹圆圈中。营会后持续6个月的线上群体辅导帮助孩子
03. 游戏式教学
Engaging leadership and self-discovery activities with 80% of the content presented as games and each game comes with a souvenir to anchor your learning.
课程被巧妙地融入到有趣的领导力和自我发现活动中,80%的内容以游戏的方式呈现,每项游戏结束后会赠送纪念品,以作为学习的心锚
04. 发掘内在领袖力
Empower girls to discover their inner leadership potential and build confidence through self-discovery.
让每个女孩更好地了解自己,建立信心,发掘内在领袖力
05. 互动分享成长
Interactive learning from one-on-one exercises to small and large group sharing.
所有内容都是互动式的,从1:1的练习到小组和大组的分享
06. 实用心理学工具
Learn practical psychology tools to manage emotions and achieve a positive and happy life.
教女孩使用实用心理学工具来管理情绪,实现积极人生和幸福感
07. 姐妹圈共同成长
Create a supportive and high-quality peer group to grow and help each other.
创建一个优质的同龄姐妹圈,相互帮助、共同成长
08. 沟通演讲提升
Learn nonviolent communication and public speaking skills to become a smart and charismatic communication expert.
学习非暴力沟通和提高演讲技能,成为聪明、有魅力的沟通专家
09. 户外团体活动
Outdoor team activities to connect with nature and release stress.
户外团体活动,接触大自然,释放压力
04
Advantages 营会优势
• English environment 英语环境
Immersive English program blending Eastern and Western cultures
东西方文化融合的学习环境 (Writer作者,Speaker演说者:Serena 恬恬)
• Global perspective 国际视野
Camp team with both Eastern and Western education background and experience
中西方教育背景的教师团队,以及不同背景的参与者
• Professional qualifications专业资历
Extensive resources integrated with 20-year experience of the Global Youth Leadership Summit
融入全球青少年领袖营(GYLA) 20年以上的教育实践
• Girls-only program女孩专属
Holding a safe space to share any personal difficulties and receive guidance
适合女孩社交和成长的个性化和全面的辅导和解答

Dormitory: air conditioned, clean and tidy with independent bathrooms for each room.
Meals: purified water and nutritious, fresh food served in the camp cafeteria.
Outdoor facilities for activities: outdoor barbecue, Campfire party,tennis courts, basketball, soccer, kayaking, and paddleboarding.
营地住宿环境干净整洁,室内有空调,配套书桌、独立卫浴。一日三餐在营地餐厅用餐,纯净水、有机大米和蔬菜,荤素营养搭配。此外营地还提供多项户外活动设施,包括户外烧烤、篝火晚会、足球、篮球、网球场、皮划艇和浆板运动。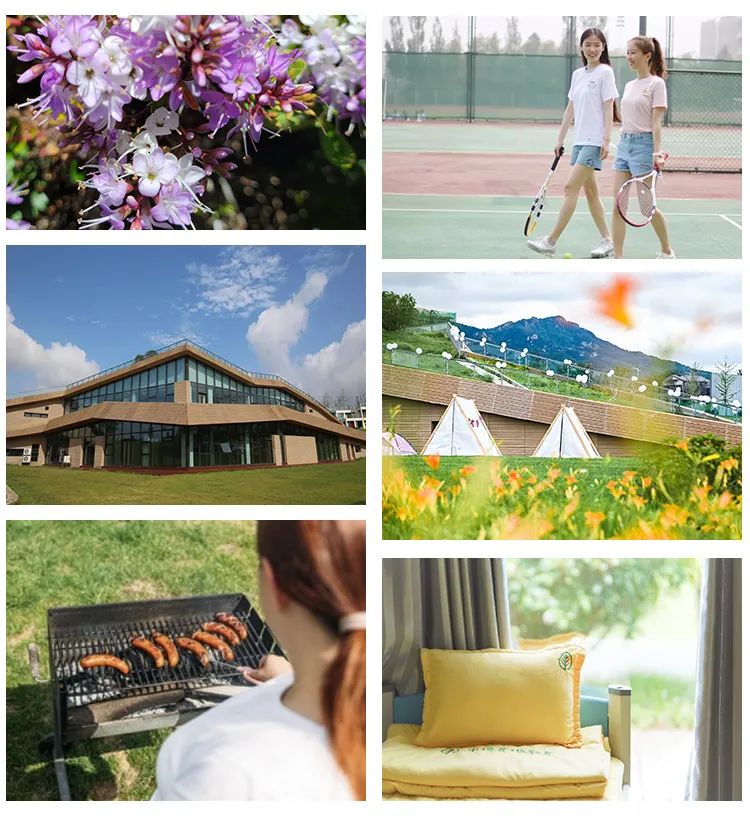 Qualifications 课程资质
01. Doris WeiLi Duan-Young 伟丽老师
The camp is led by Doris WeiLi Duan-Young, a renowned behavioral psychologist for almost 30 years in America. She is the first Chinese Board Certified Behavior Analyst (BCBA) in the world and the founder of the Athena Sisterhood.
夏令营由北美从业近30年的著名心理行为分析专家、全球首位华人国际认证 (BCBA) 行为分析师、全球雅典娜女子学院 (Athena Sisterhood)创始人–伟丽老师带领。
02. Serena Young 杨心恬
Serena Young is a President Award recipient for eight consecutive years. She has been invited to speak on global platforms such as Global Youth Mindset Summit  and The Conscious Leader.
恬恬,伟丽老师的女儿,连续8年获总统奖 ,受邀在全球平台:"全球青年思维峰会"和"觉醒领袖"发表演说。
03. Guest Speakers 特邀嘉宾
● Tianmei Chen – Energy and potential coach for top leaders, Founder of Cosmic CitizensⓇ (a global woman leadership platform).
陈天梅 – 领导者的能量教练,宇宙公民Ⓡ全球女性领导力大学创始人。
● Kandy Yau – a senior global leader under Tony Robbins, Youth Committee member of the Hong Kong Fujian charitable education fund.
Kandy Yau – 安东尼罗宾国际领袖,香港福建希望工程基金会青委会成员。
● Sim Suen – A founding member of Hong Kong's first virtual bank, co-founder of Hong Kong's Athena Sisterhood.
孫詠嬣 – 香港第一家虚拟银行的创始成员,雅典娜姐妹会香港联合创始人。

04. Coaching Team 教练团队
The Camp team consists of experienced, caring, and patient professionals and volunteers who will provide the most applicable support and guidance. Through a series of experiences, including self-exploration, teamwork, music, dance, artistic works, yoga, mindfulness, brainstorming, leadership and innovative thinking practice, communication and interpersonal skills learning, they will accompany the participants to have four meaningful and fun days. Teacher-student ratio = 1:6.
夏令营团队由经验丰富、富有爱心和耐心的专业人士和志愿者组成。他们将提供最专业的支持和指导,通过自我探索、团队合作、音乐舞蹈、瑜伽、正念、冥想、艺术创作、头脑风暴、领导力和创新思维培养、沟通和人际技能提升等一系列体验,陪伴参与者度过愉快且有意义的四天时光。师生配比 1:6。
上海营地交通讯息如下:
1、浦东国际机场:30分钟,约28公里
2、虹桥国际机场:57分钟,约64公里
3、上海迪士尼度假区:36分钟,约29公里
青岛营地交通讯息如下:
1、青岛胶东国际机场:40分钟,约47.5公里
2、青岛流亭国际机场:58分钟,约59公里
3、青岛站:47分钟,约34公里
We welcome you to join us in this journey,
create treasured memories,
and become the girl you're meant to be.
欢迎你加入这段旅程,
在这个灿烂的夏天创造最美好的回忆,
成为独一无二的宝藏女孩!
支付方式一:扫码微店购买(点击上方相应微店图片即可)
Early Bird Price ¥4,999 (Before May 25th)
早鸟价
¥4,999

(5月25日前)
Registration Price ¥5,999 (May 26th to June 25th)
报名费
¥5,999

(5月26日-6月25日)

*所交费用包括学费、食宿费、教材费、体育费和所有旅行和活动,但不包括个人来往营地的差旅和入住时的零花钱
付款方式二:联系客服直接转账
GET IN TOUCH 咨询联系