Do you live in MASCULINE energy & feel like you lost your femininity? Learn to reclaim your feminine power, grow your business & enjoy your family!
Do you live in MASCULINE energy most of the time? What has it cost you
"There is a Goddess living in each and every one of us."
I help mompreneurs to master work-life balance.

Arriving at the golden age of 51, I feel more sexy and alive than ever. My two teenagers think their mom is the coolest (most of the time at least) and my husband of 30 years worships me like a goddess. I am the Goddess of Light! I have all I could ever ask for.

But believe me, it wasn't always like this. Ten years ago, even after I built an 8-figure business, I wasn't fulfilled. I wasn't happy.

Now I ask myself everyday: How do I own the divinity in me even more and share with others now?

That is why I am talking to you. You too can have it all, and without all the struggles I had to face. Let me be your gentle guide.

"When I first met her, I was completely mesmerized by her physical beauty. But when she began to speak, I was in complete awe of this beautiful woman in front of me who was speaking words of wisdom that spoke directly to me, directly to my heart."
Yvonne Borgquist, USA

"We have learned from WeiLi how to be sexy and completely happy in our body and because of her coaching we are inspired to appreciate myself, my body and femininity."
Sim Suen, Hongkong

"I've learned grace from WeiLi. WeiLi herself is grace. Like grace is her costume for the vessel of love that she brings forward."
Hilde Jahren, Norway

"She has taught many of us to live with our intuition and without fear"
Phyllis Goughnour, Founder of Wealth Growth Fund
"What I learned from WeiLi is to be an inspiration for others because she is such an inspiration, and you want to replicate that."
Christine Forment, Founder of Be Well & Rejuvenate
"She is a woman that wants to support other woman."
Zedy Clark, Panama

"I love how she taught me about just embracing the uncertainty and being open and flexible and resourceful.."
Kandy Yau, Hongkong

"The way you express your gift is such a source of inspiration to others."
Sev Jaunasse, Founder of Path to Fulfillment

"What I've learned from WeiLi is to have clear where you want to go and go for it."
Joanna Mercado Peters, Founder of MOMFIT

"I've learned to thrive in a very masculine world with my feminine energy."
Dr. Suelyn Hall, Kansas

Wei Li is one of the most heart-centered people I know. She was able to create a strong women's group called Athena Sisterhood and build it to a large group in a short amount of time. Each and everyone of the women in the group are beautiful and it just shows that she surrounds herself with amazing souls and gives back to her community. She is a powerful leader and with my own eyes, I have seen her help women claim their feminine power so they can have it in their lives to have deeper and stronger businesses and family connections.
Didi Wong

Such a beautiful woman , inspiring Leader , gorgeous mom who knows how to make a difference by tapping into her Feminine power …
Severyna Jaunasse
WeiLi, is a beautiful Loving soul and heroine. Overcoming the most difficult situations, she shose to rise and shine and share with the women in the world that they can rise too as a female phoenix. WeilLi is a natural born leader, and inspirational and transformational author. She brings global sisters together to heal, grow and be a force for good in these times of suffering and make this world a better Place. Make sure to get to know WeiLi and Athena Ssiterhood, you will be delighted.
Livia Nemeth

I have been a member of Athena Sisterhood for almost a year now. During this time I have observed WeiLi's dedication and passion for doing good to all who come across her path. She is a compassionate, caring and loving woman who makes the world a better place. I am proud to be part of this group where women are supportive of each other and where everyone experiences a feeling of belonging and joy.
Etya Krichmar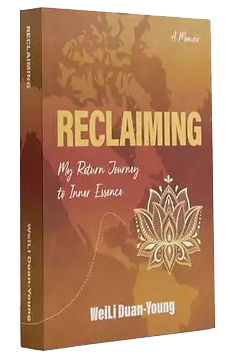 Reclaiming: A Memoir of My Return Journey to Inner Essence
​A Chinese immigrant turned American businesswoman who embraces her femininity, frees her sexuality and powerfully reclaims her identity.
Join Athena Sisterhood Facebook Group
We are a global sisterhood that empowers and supports women from every walk of life.
Come, Grow and Shine with us.